KEMAH - SEABROOK - HOUSTON - GALVESTON BAY - TEXAS

""" Check our Specials page for our Boat and Breakfast """


Luxury - Affordable - Private - Fun

Book your Sailing Adventure Now!!!!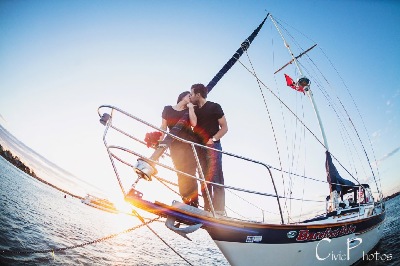 Reserve your Sailing Charter Today with a small deposit.

Have you ever watched the sailboats go by and dreamed about being out there on one. Enjoying the wind, waves and sunshine, or maybe enjoying a loved ones company under a full moon while sailing. How about taking the family or a friend on a sailing adventure or anchor out at an island swiming and watching dolphins play. You can be a part of the adventure at very reasonable rates on a private sailing yacht.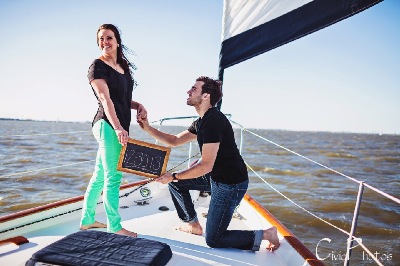 How about a romantic place to "Pop The Question" or spend an "Anniversary". Sailing along with the wind on a yacht is a very romantic and private way to tell someone how much you love them. Romance is in the air....


See what "USA TODAY" has to say about Sail Galveston Bay Charters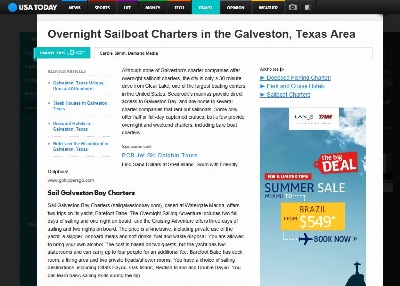 We have all dreamed of sailing adventures to far off tropical islands. Ariving at exotic ports of call and being self reliant. Using the wind to go where it takes you and relaxing from the presures of the city and everyday life. Sailing lets you use your imagination as you take command of the ship, steer a course, and trim the sails. Or just lay back and relax as you sip on a drink.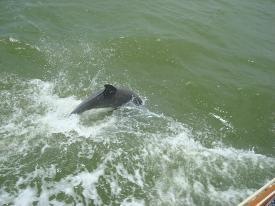 Dolphin Watch... While sailing Galveston Bay you may encounter Dolphins at play. Dolphins enjoy gliding along the sailboats wake and showoff for everyone onboard.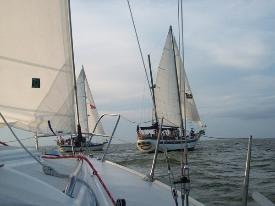 We often have "Pirate Battles" on Galveston Bay. We use water cannons and ice water to attack the other pirate ship and crew. CLICK ON THE PICTURE FOR A VIDEO OF A BATTLE. >>>

We offer morning, afternoon, evening / sunset, and the famous full moon cruise. The sailing cruises last 4 hours, but can be extended to 6 hours, 8 hours or overnight to meet your desires. Overnight sails to destinations like Galveston Island, Double Bayou, or Redfish Island may be arranged for your sailing adventure.

We offer gift certificates you can give as presents to family and friends, employee incentives, or for customer appreciation. A sailing charter makes a great team building adventure.

Sail Galveston Bay is affordable and "Family Friendly". Be sure to click on the "Specials" button for news and current specials.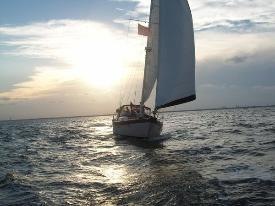 Barefoot Babe raced in the offshore 2007 Harvest Moon Race across the Gulf of Mexico from Galveston Island to Port Aransas. Barefoot Babe and it's crew won 1st place in Fleet and 1st place in Division. Sailing along with the 1877 Steel Barque "ELISSA" click on the picture to see the race video

Sail Galveston Bay Charters provides the following sailing Charters - Sunset Sailing Cruises - Ash Scattering Sailing Charters- Cremation - Burial at Sea – Redfish Island Charters – Galveston Island Charters – Romantic Couple's Charter – Double Bayou Charters – Kemah Boardwalk Charter Stops - Day Sailing Charters – Evening Sailing Charters – Full Moon / Night Sailing Charters – serving the Houston, Kemah, Seabrook, Clear Lake and Galveston Bay Area, Texas.

This site is registered with Yachts.com, Yacht Charters.com and Sailing Texas.com

Sail Galveston Bay Charters 713-829-2164

Email: captainjim@sailgalvestonbay.com